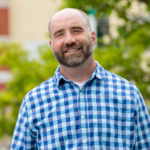 Shane Liebler •
Yes, it's true B2B marketing isn't the most exciting kind of advertising. The only shelves the products are on are in some warehouse, if you're even dealing with a product at all. While there are not cute taglines, catchy jingles or flashy packaging, there's still plenty of creativity to be had in this traditionally sleepy space. Yes, there are ways to develop a kickass marketing campaign where the B doesn't have to stand for boring.
---
---
Socialize
Social media, for example, may not be the first platform you think of when taking stock of your B2B options. Social media is just that – social. It's personal, intended to connect people to people, not business to business, right? Nope.
Because the key to effective B2B marketing is to remember that there are indeed people behind businesses. They have personas and pain points that need solutions. Traditionally, we've delivered those unique selling points in e-communications and direct mail. That's all well and good and, in fact, there are some pretty cool ways to do that. But, social is an oft-untapped avenue for engagement with target audiences in the B2B space.
One of the more obvious places to do this is LinkedIn, where you can build followings and even communities around your product or service. To achieve this, you need to deliver the information in the ways folks are used to getting it on social.
Throwing up a salesy post with a link or a photo of a product is, well, boring. You need to expand your social arsenal with well-designed graphics. Consider using video, the most popular form of social media. Even adding a little motion to your information can increase engagement.
Once you've created these engaging posts, LinkedIn makes it easy to target well-defined audiences based on industry, profession and more. Don't forget hashtags that increase your reach as well.
It's also worth noting that people are attracted to people when it comes to social, which makes any opportunity to highlight your company culture a must. We've found these are often the most popular posts for our B2B clients.
Facebook and Instagram can be powerful tools as well, though they're not right for every business. Facebook is considered essential space for just about every entity, but you can't target as specifically as LinkedIn when you put money behind your posts. If you are indeed sharing a lot of content promoting company culture, Instagram can absolutely work.
Visualize
However you use social media, it's important to remember the supremacy of visual content no matter what platform you're using. That leads into another piece of tried and true content marketing for B2B: case studies. There are many ways to create case studies that don't suck.
For example, we often take a journalistic approach. Instead of creating the typical overview, problem, solution formula, we create a narrative that reads more like a magazine feature article.
In addition to the less-rigid delivery, this format lends itself to the kind of design you'd expect to see on the pages of your favorite pub: photos, pull quotes and graphics.
Another way to spice up the typically dry case study is to convert the copy and numbers into visually appealing infographics. Giving the overview/problem/solution in bite-sized pieces can be very effective … and efficient, as it allows you to spin those key points into social graphics or even a video representation.
Strategize
Of course, it cannot be stressed enough how important it is to get your marketing and sales teams on the same page. So, while you're creating all those marketing assets, the people actually making the conversions cannot be forgotten.
Let's go back to the social. Getting employees involved with liking, commenting and sharing is an easy way to increase reach and keep everyone involved as to what's going on with the current campaign.
Take that same visual approach to behind-the-scenes collateral. Create one-pagers for talking points that reflect the campaign message and look good. Use tactics similar to social media and case studies and don't skimp on the visuals to help the key pieces of information stick.
Internal marketing can lead to a very formidable united front when it comes to conversion. So, don't leave your sales team behind and treat them to a little creativity.
So, add a little excitement to your B2B strategy by using the same creativity you would with a product or experience. All marketing is about people, after all, and getting them to act.
About The Author
A journalist by trade, Shane tells stories that connect brands with target audiences and inspire them to act. He's a writer, not a copy machine, and that approach brings exceptional content to every print or digital piece he pens.
Shane taps into his past as a reporter and editor to develop clear messages that resonate in every medium, be it blog or brochure, sponsored content or script.
Daily newspapers developed a habit for idea generation, attention to detail and knack for question-asking. His background as a magazine and web editor keeps client communications grammatically sound and effective.
Shane's word-based deliverables range from long-form features to concise digital copy to persuasive prose. He's been on both sides of the PR pitch and puts some muscle behind ABC's media relations.