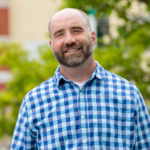 Shane Liebler •
So you've decided to kickstart your content marketing and you've laid out what topics you want to cover and given some consideration to cadence and promotion. Of course to accomplish all that, you'll need the actual content.
As with any creative exercise, there are a number of ways to go about this. In fact, it can seem downright overwhelming. There are just as many ways to avoid this though and it starts with good old fashioned pen (or pencil or Sharpie) and paper.
Put the Topic at the Top
We're going to take a page from ABC Creative's idea-based marketing philosophy and start with the concept as opposed to the medium. We'll get to that later. For now, let the message drive the media you will use to engage your target audience.
If you've followed the first step from our previous post, you have the idea(s) for what content you need and who you're hoping to attract. Simply write that down at the very top of your paper of choice.
Form the Framework
Now let's move onto the meat. I prefer bullets to get my points across. You might want to think of these as subheadings in a blog post. Even if we decide not to write a blog post, this creates a good roadmap for your content.
What do you want to tell your personas? This can be very blunt at this stage, e.g.
Outline the content development process.

Put the topic at the top.
Form the framework.

List all the content possibilities.

Select the primary medium.
Consider spinoffs.
At this point, you're only thinking about what you hope to achieve, not the actual art or copy you will use to tell that story.
Select the Primary Medium
Once you have your bullets, you can start thinking about how to tell your story. I tend to lean toward a blog post (if applicable) or web page copy since you should be focused on evergreen content that generates leads at this point.
But, as we've said many times, you don't have to start with blog or web copy. In fact, this may only limit your thought process. Content development is an exercise in creativity, so you should give consideration to everything. It's part of the fun. In the broadest strokes, these might include:
The aforementioned blog post
Feature article/content activation
Info/individual graphics
Video/animation
Email campaign
E-book/white paper
Perhaps your goal is to educate the audience and you have an expert available to write a post. Perhaps this person can be a source for an article. Maybe the subject matter calls for an interview that leads to long-form video or an animated "explainer" of a complicated topic. If stats drive the message, consider infographics or individual images to present those. Can you wrap all this up in a lead-generating email campaign or downloadable e-book? Go for it.
Consider Spinoffs
We'll call this phase three, the point at which we consider presenting our message in multiple formats. I like to use a blog post as an example. I might take a post about how to kickstart stalled marketing plans and transform it into an infographic format, where each step is explained in shorter form. I might break that down to a series of graphics I can share on social media. I might use those to create a how-to video. Perhaps I expand on the topic to create a white paper.
The possibilities are really infinite and really quite efficient. That one blog post can be spun off into a dozen or more pieces of snackable content that lends itself to your key promotion channels of social media, all of which can drive back to your post or lead-generating web page.
All modern content is digital, but the genesis can all take place on a blank sheet of paper and something to write with. These simple tools can lead to many great things with a little practice – or with the assistance of an agency that specializes in all types of content development and storytelling.
This is part two of a three-part series. Get the complete white paper here.
About The Author
A journalist by trade, Shane tells stories that connect brands with target audiences and inspire them to act. He's a writer, not a copy machine, and that approach brings exceptional content to every print or digital piece he pens.
Shane taps into his past as a reporter and editor to develop clear messages that resonate in every medium, be it blog or brochure, sponsored content or script.
Daily newspapers developed a habit for idea generation, attention to detail and knack for question-asking. His background as a magazine and web editor keeps client communications grammatically sound and effective.
Shane's word-based deliverables range from long-form features to concise digital copy to persuasive prose. He's been on both sides of the PR pitch and puts some muscle behind ABC's media relations.