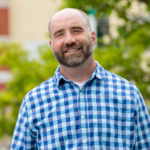 Shane Liebler •
Beware these guys and ghouls that might mash your strategy …
Wolfman – Wants to sink his teeth into every social media platform ever without considering time or resources.
Zombie – Wanders the marketing landscape living off of others' ideas. If it's not a best practice, it can't be done.
Frankenstein – Scuffles around piecing the marketing plan together with no goals or planning.
Dracula – Can't move forward on any idea without a meeting. You might catch him with colleagues for "pop-ins" that seem to last from dusk till dawn.
The Ghost – Lives in the past and won't adapt to new technology or ideas. Thrives off the fear that pushing the boundaries will kill the organization.
Dr. Jekyll/Mr. Hyde – Dr. Jekyll fears trying anything that doesn't fit into conventional measurement methods. Mr. Hyde stops at nothing to find the next big thing without any thought of results.
Witch/Warlock – Believes in the one magic potion that will fix everything and tries to cast the spell relentlessly until everyone is drinking the Kool-Aid.
Godzilla – Ancient and clunky, this monster lays waste to the creative terrain, crushing any new ideas.
About The Author
A journalist by trade, Shane tells stories that connect brands with target audiences and inspire them to act. He's a writer, not a copy machine, and that approach brings exceptional content to every print or digital piece he pens.
Shane taps into his past as a reporter and editor to develop clear messages that resonate in every medium, be it blog or brochure, sponsored content or script.
Daily newspapers developed a habit for idea generation, attention to detail and knack for question-asking. His background as a magazine and web editor keeps client communications grammatically sound and effective.
Shane's word-based deliverables range from long-form features to concise digital copy to persuasive prose. He's been on both sides of the PR pitch and puts some muscle behind ABC's media relations.