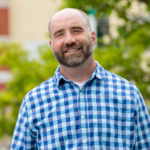 Shane Liebler •
So, you've got yourself a blog post. It's solid. You've written everything just right. Its 600ish words adhere to SEO best practices and you're ready to amplify it on social media to get some organic traction.
But, it's also boring. Not that you didn't do an excellent job on all that copy. It's good. But, it's just not good to go. You've forgotten about design, something increasingly important in this mobile, newsfeed-fed culture of consumption.
---
---
It happens. In fact, it's a common pitfall of content marketers, especially those with copywriting backgrounds. Words may drive your content and strategy, but that planning isn't complete without visual considerations.
"It's good. It's just not good to go."
Easier said than done, you might say. It's true that here at the agency, we have an entire staff of designers, videographers and web developers to lift content marketing efforts. But, design doesn't have to be elaborate. Honestly, it can be as simple as a stock image, some subheads or a pull quote.
"Design doesn't have to be elaborate."
But, design should always be on the content marketer's mind. You've got engaging knowledge to share, so it's essential you make it as engaging as possible.
Studies show that upward of 91 percent of consumers prefer visual media over that of the text-based variety. Thankfully, copy and design can work extremely well together for effective pieces of content.
Every Piece of Content Deserves Design
Art and copy are the essence of advertising, which we like to call storytelling – content. You've got words and you've got pictures (or graphics or video) – it's really as simple as that. And while words will drive virtually all your content in some way, the many forms those words can take or visuals they can create should always be considered from the beginning.
So, let's go back to that awesome blog post you've created. Before you ever put pen to paper, or maybe just after you determined a working headline, you should've considered the visuals. Just as a text-laden web page doesn't cut it, tossing a Word doc to a designer to pretty up is a backward approach to content marketing strategy.
Vision and collaboration are essential for making this content stuff work, so make it a part of the thought process from the start.
Think About It
Where do you want to go with this content? How can you make it attention-grabbing? Well, don't just write the blog post. One simple way to approach development of attractive content is to take a magazine mindset. Consider communicating key points with a graphic element instead of a bulleted list. Use an infographic to sum it all up (especially when dealing with stats or numbers). Maybe create a white paper if you've got a ton of material.
Don't underestimate the power of video as a supreme communication tool. Even something as dry as a case study can be translated into something impactful.
All these decisions can be made in advance and carefully thought out for visually-driven content marketing success. I'm a big fan of diversification in content marketing. You want to give your audience as much opportunity to engage with your content as possible. So, keep design in mind and map out all the ways your content can be delivered before you sit down to write.
About The Author
A journalist by trade, Shane tells stories that connect brands with target audiences and inspire them to act. He's a writer, not a copy machine, and that approach brings exceptional content to every print or digital piece he pens.
Shane taps into his past as a reporter and editor to develop clear messages that resonate in every medium, be it blog or brochure, sponsored content or script.
Daily newspapers developed a habit for idea generation, attention to detail and knack for question-asking. His background as a magazine and web editor keeps client communications grammatically sound and effective.
Shane's word-based deliverables range from long-form features to concise digital copy to persuasive prose. He's been on both sides of the PR pitch and puts some muscle behind ABC's media relations.