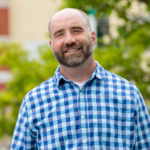 Shane Liebler •
The McMahon Ryan Child Advocacy Center has long been a favorite cause of ABC, first as supporters and now as the agency of record. This became especially true as the organization reached a milestone anniversary.
McMahon Ryan, a nonprofit dedicated to preventing child abuse and healing victims, celebrates its 20th year of service in 2019. We recognized this as an unprecedented opportunity to boost the organization's profile in the community.
The ABC team gathered to identify key marketing pieces for this significant occasion, identifying fundraising, public relations, event promotion and general awareness as focuses for the upcoming year.
We kicked things off with a logo revision to freshen up the organization's ID, complementing that with a 20th anniversary mark. Built upon the blue pinwheel that symbolizes child abuse prevention, the anniversary logo will be used on all 2019 marketing materials.
ABC's digital designers and developers dove into a complete overhaul of the website to bring more prominence to the organization's services, events, giving and sponsorship opportunities.
We brought in the organization's founders to tell the McMahon Ryan story in a 20th anniversary video that will premiere at the Go Blue 4 Kids Breakfast, which kicks off a series of signature events during the Child Abuse Prevention Month in April.
The interviews done at ABC's in-house studio were also used to create a magazine-style feature story on the new website and integrated into a special 20th anniversary appeal.
On the public relations side, we recruited recognizable community leaders like Onondaga County DA William Fitzpatrick and Syracuse Police Chief Kenton Buckner to wish McMahon Ryan a happy anniversary for social content.
We worked with McMahon Ryan's media partners to negotiate complimentary radio and TV spots promoting the annual Breakfast and Pinwheel Ball. McMahon Ryan asks the community to "Go Blue 4 Kids" during April, so a refreshed web page was created to promote the campaign, which also got a lift from press releases and pitches for stories and interviews recognizing McMahon Ryan's 20 years of service. ABC will be strategically mapping social media posts leading up to and during Go Blue 4 Kids month of April.
The three key events – Go Blue 4 Kids Breakfast (April 1), Pinwheel Ball (April 6) and Step Up 4 Kids 5K (April 28) – are open to the public and tickets are available now. We also invite the community to sponsor a golfer in the 100 Holes 4 Kids fundraiser on May 20. During this unique event, McMahon Ryan supporters undertake a 12-hour day of nonstop golf for the cause.
It's an exciting year ahead for McMahon Ryan, which we are proud to support in all the work they do to help victims and prevent child abuse right here in Onondaga County. Keep an eye out for much more promotion and celebration to come during the 20th anniversary.
About The Author
A journalist by trade, Shane tells stories that connect brands with target audiences and inspire them to act. He's a writer, not a copy machine, and that approach brings exceptional content to every print or digital piece he pens.
Shane taps into his past as a reporter and editor to develop clear messages that resonate in every medium, be it blog or brochure, sponsored content or script.
Daily newspapers developed a habit for idea generation, attention to detail and knack for question-asking. His background as a magazine and web editor keeps client communications grammatically sound and effective.
Shane's word-based deliverables range from long-form features to concise digital copy to persuasive prose. He's been on both sides of the PR pitch and puts some muscle behind ABC's media relations.