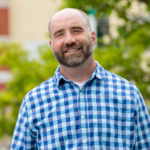 Shane Liebler •
Want to engage your audience? Well, you need to ditch I, we and us in your marketing copy. It's a matter of talking with your audience and not to them. It's all about "you" and you're here to answer the question "what's in it for me?"
---
---
Got that? This is actually much harder than it sounds. We humans have a natural propensity to talk about ourselves. We marketers love our brands and products. That often comes through in poor, we-focused form as we attempt to catapult our selling points to the top of consumer consciousness.
I just used the word "we" four times in three sentences. See what I mean?
So, how do you fix that? You take the focus and make it relatable. You take your story and make it real to your reader. Now, here's the tricky part.
What's in It for Me?
You must think about yourself when you're writing to – talking with – this audience of "you." How would you answer "what's in it for me?" What story would you like to read? Why would you bother clicking "submit" on a lead generation form? As a marketer, you're the harshest persona. You know all the tricks, right?
Of course, being authentic isn't really a "trick" at all. You're attempting to engage here. This is a chat, not a web page, email or print piece.
This can't just be a stream of consciousness thing – that can get messy. You still have to have a purpose and plan for your prose. But, there are ways to make things conversational. That starts with "you."
What About You?
Now, maybe you're giving advice or best practices in an agency blog post. Sometimes it's not possible to avoid I, we and us completely and there's room for that in many cases. For example, I like to think as most of what I write as a social media post (minus the shorthand and emojis, of course). When writing a web page, I often think of what that same sentence would look like on social media. Would it work?
Well, social media is one place where it's all about your "you" as you try to climb to the top of feeds and grab attention. So why wouldn't you write like that in your marketing copy?
Show, Don't Tell
Just something to think about the next time you sit down to sell something. Yeah, you have to tout your product or service and hit those selling points, but you can be creative in how you present them, preferably through storytelling. For example, if you don't want to tell someone how great your stuff is straight up, maybe you turn to a testimonial or case study instead. Let someone else your audience can relate to tell that story and leave the "we" out of it.
So, be conscious of your pronouns. Give your audience value. Engage them with stories instead of bullets. Embrace the term "you." This whole marketing game is about them, after all.
About The Author
A journalist by trade, Shane tells stories that connect brands with target audiences and inspire them to act. He's a writer, not a copy machine, and that approach brings exceptional content to every print or digital piece he pens.
Shane taps into his past as a reporter and editor to develop clear messages that resonate in every medium, be it blog or brochure, sponsored content or script.
Daily newspapers developed a habit for idea generation, attention to detail and knack for question-asking. His background as a magazine and web editor keeps client communications grammatically sound and effective.
Shane's word-based deliverables range from long-form features to concise digital copy to persuasive prose. He's been on both sides of the PR pitch and puts some muscle behind ABC's media relations.