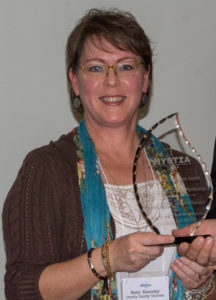 (10/20/16 – Callicoon, NY) For the second consecutive year, the New York State Tourism Industry Association has recognized an ABC Creative Group destination marketing campaign with its highest award.
The Central New York Travel Region earned the "Excellence in Tourism Marketing Award" in the small budget category with the ABC-created "Outdoor Adventure" campaign.
The honor continues the precedent of success set by the national award-winning CNYFresh and Brew Central initiatives, which promote Central New York agritourism and craft beverages.
"As our agency of record, ABC Creative Group has developed and delivered compelling campaigns that really capture the essence of Central New York," Central New York Travel Region President Kelly Blazosky said. "For two consecutive years now, their work has earned high honors and we couldn't be more pleased.
"It's very gratifying to work with an agency that understands the tourism industry, champions our mission to increase visitation to CNY and consistently works with our team to achieve the region's goals," she added.
The Outdoor Adventure campaign coincided with the relaunch of the Central New York Travel Region website in fall 2015. ABC developed the logo, SEO-inspired web copy, digital ads, online video spot and original content for an extensive series of 14 feature articles all focused on the wide variety and superiority of outdoor recreation in Central New York.
Brew Central earned the NYSTIA "Excellence in Tourism Marketing Award" last year.