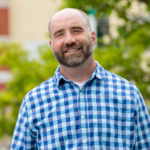 Shane Liebler •
Between emails, news sites and blog posts, your customers have plenty to process.
In a culture of round-the-clock business/busy-ness and 140 characters or less, it's important to give your audience options – video in particular.
As marketers, we make an effort to give valuable information, but keep things scan-able. It's best to keep emails (marketing or personal) to five sentences or less and to separate written content like blog posts into sections, bullets or both.
The ultimate shortcut
Even if it's not practical all the time, video should always be a consideration in any strategy. In a blog post or on a website, it's the ultimate shortcut: the page or story in one or two minutes.
You may notice vloggers and podcasters will include a summary or even the script from their broadcast in the description or post. I've even seen some bloggers convert their posts to audio or video.
Getting it done
YouTube uploads more than 100 hours of video per minute. Video engages in a different and much richer way than any other medium. Whether it's a mini-feature or clip, video makes for very shareable social content as well.
Though expectations and standards are always increasing, it's still more than acceptable to produce videos from a webcam or smartphone. Paying to produce something professionally doesn't hurt even in a time of YouTube, Vine and Instagram.
Increase your reach
Anything visual can engage and has the potential to go viral. It's an important part of marketing strategy, especially when dealing with something inherently visual like tourism.
That's precisely why we introduced video to our Brew Central and CNYFresh campaigns this year. Since we already require photography for the print ads, website and social, we decided to add add a little cinema to the mix while we were on the shoots.
Last week, we captured great footage and interviews on location to add rich, engaging and shareable visuals to both campaigns. And of course, we also edit and post the content for our clients.
Perfect fit
Brew Central focuses on the "Stories on Tap" in Central New York.
Now our brewers can tell their own stories. Now our website visitors can read or watch. Now our followers have motivation to share the richer media.
Being in the right mindset to grab the camera, pick up the phone or hire an agency to tell a story increases your reach several fold.
About The Author
A journalist by trade, Shane tells stories that connect brands with target audiences and inspire them to act. He's a writer, not a copy machine, and that approach brings exceptional content to every print or digital piece he pens.
Shane taps into his past as a reporter and editor to develop clear messages that resonate in every medium, be it blog or brochure, sponsored content or script.
Daily newspapers developed a habit for idea generation, attention to detail and knack for question-asking. His background as a magazine and web editor keeps client communications grammatically sound and effective.
Shane's word-based deliverables range from long-form features to concise digital copy to persuasive prose. He's been on both sides of the PR pitch and puts some muscle behind ABC's media relations.