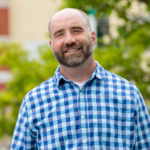 Shane Liebler •
Think you're the best in the business? Prove it with robust blogs, engaging e-blasts and savvy social sharing.
Content marketing makes one of the most effective means for corralling new customers. Unfortunately, making time or finding resources to generate compelling content can be a tough sell to small businesses.
Content marketing has reached a tipping point and the way small shops (and small agencies, for that matter) connect with consumers has changed relatively quickly.
An email with a special offer or coupon might get you a little action, but the more effective campaign lies in a longer-term strategy that builds relationships. Creating those bonds takes carefully planned and sustained communications with your target audience.
It also takes some resourcefulness – and a little outside help – when you don't happen to have staff dedicated to content generation.
The method here at ABC Creative differs from client to client, but follows a similar approach. We believe that if you're in business or head an organization, you probably know what you're talking about when it comes to your field or industry.
ABC Creative and our team of professional writers, designers and multimedia developers collaborates with clients to develop an attractive voice consistent with the service or mission. Essentially, we'll pick your brain, process the topics and then find the best ways to share your story and spread the message across a variety of formats and channels, including blogs and other social media.
E-newsletters have become one of our most popular services in recent years because they work. But, it's not just enough to throw together some event listings and links. Great visuals, clever teaser copy and an air of authoritative expertise all factor into giving the content value.
Businesses and organizations have tons of useful information to share with subscribers, readers and viewers even if they don't know it. We help dig it up and get it out there.
Tell customers and prospects about your company history, how you take advantage of current trends or use staff profiles to give a face to your business. Perhaps there's a social media channel we can help you take advantage of. Ever thought about doing video?
There are many approaches to getting a content marketing strategy off the ground, but so many hesitate because of content generation.
About The Author
A journalist by trade, Shane tells stories that connect brands with target audiences and inspire them to act. He's a writer, not a copy machine, and that approach brings exceptional content to every print or digital piece he pens.
Shane taps into his past as a reporter and editor to develop clear messages that resonate in every medium, be it blog or brochure, sponsored content or script.
Daily newspapers developed a habit for idea generation, attention to detail and knack for question-asking. His background as a magazine and web editor keeps client communications grammatically sound and effective.
Shane's word-based deliverables range from long-form features to concise digital copy to persuasive prose. He's been on both sides of the PR pitch and puts some muscle behind ABC's media relations.