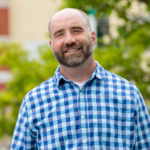 Shane Liebler •
Like everything in our daily lives right now, destination marketing during a crisis of this scale is unprecedented. Attractions, accommodations, eateries and breweries are closed or close to it. Everyone's pretty much stuck at home. This sucks. It also presents great opportunity from a marketing standpoint.
For starters, we have a captive audience, one that's hungry for distraction and something normal during a chaotic time. This is not a time to fall silent on social media or pause creating content. It's just the opposite.
People need something to look forward to, so destinations need to show off the good stuff to encourage inclusion in those plans. How do we achieve that? By taking an angle of hope.
Go ahead and post with the promise that out-of-towners can partake someday (soon, we hope). The museums, the performances, the places to eat and drink will all be there waiting with open arms when this thing is over. Remind people of that.
And remind them how close you are. Can you imagine the explosion of drive-time travel once things get back to normal? The roads seem a lot safer than the airlines right now and the data is showing it. U.S. airlines cut domestic flights by more than 30 percent in April 2020 and that's just the beginning. The ripple effect suggests people want to stay closer to home.
So what's the strategy? Keep creating content about things to do. Keep amplifying it on social media. Keep a positive attitude as hard as it may be for all of us right now.
Consider becoming a resource, sharing posts about to-go and takeout from your local partners. A lot of them have taken to social media with frequent updates that you should stay on top of.
And don't forget: outdoors is not cancelled! Promote your outdoor attractions at a time when people desperately need to escape.
Finally, consider your digital assets people can take advantage of during these stay-at-home times. The National Baseball Hall of Fame, for example, almost immediately introduced Safe at Home, a hub of all their digital resources that include educational materials, a virtual tour, their YouTube channel and the brand new Starting Nine Experience.
Don't postpone destination marketing communications during difficult times. Embrace them and take advantage of the opportunities hiding within.
About The Author
A journalist by trade, Shane tells stories that connect brands with target audiences and inspire them to act. He's a writer, not a copy machine, and that approach brings exceptional content to every print or digital piece he pens.
Shane taps into his past as a reporter and editor to develop clear messages that resonate in every medium, be it blog or brochure, sponsored content or script.
Daily newspapers developed a habit for idea generation, attention to detail and knack for question-asking. His background as a magazine and web editor keeps client communications grammatically sound and effective.
Shane's word-based deliverables range from long-form features to concise digital copy to persuasive prose. He's been on both sides of the PR pitch and puts some muscle behind ABC's media relations.