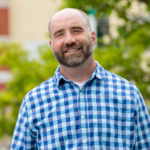 Shane Liebler •
Even as pandemic restrictions are lifted, there are still plenty of business traditions that look quite a bit different now. Take tradeshows, for example, many of which have gone virtual, been postponed or cancelled altogether. The absence of these quintessential networking events is crushing for those in B2B industries. But, there are some solutions to keep the all-important "2" intact and stay connected with customers. It starts with video.
Tell your story.
Nothing tells a story quite like video, as it engages more senses than just reading or hearing. We know that the blend of sight and sound engages an audience on emotional and intellectual levels. Those types of connections have become extremely hard to do in the current professional environment where person-to-person contact has been limited or even eliminated for the time being.
Video, and more specifically corporate video, is one of the best ways to stay top of mind with current and prospective customers. It's an opportunity to put a face on your company.
It's just as much about showing people and culture as it is services or products.
Corporate videos make great content for websites and social media, of course, but they carry even greater value in the current tradeshow space. Decorating your virtual booth with video will catch more eyes and start more conversations when done right.
---
---
Letting your leadership and employees tell the story will go a much longer way than any web copy or sell sheet.
Remember video has the power to make emotional connections to your brand. You're doing more than just listing service or product features. Take the viewer inside your operation or demonstrate how customers are using it (i.e. get some cool-looking footage) for a greater opportunity to leave an impression.
A corporate video can do a lot to enhance your new business strategy. Its digital format makes it easy to share on a number of platforms. It becomes even more valuable in the "new" virtual tradeshow space. It's one of the most effective ways to share products, services and, above all, your story.
About The Author
A journalist by trade, Shane tells stories that connect brands with target audiences and inspire them to act. He's a writer, not a copy machine, and that approach brings exceptional content to every print or digital piece he pens.
Shane taps into his past as a reporter and editor to develop clear messages that resonate in every medium, be it blog or brochure, sponsored content or script.
Daily newspapers developed a habit for idea generation, attention to detail and knack for question-asking. His background as a magazine and web editor keeps client communications grammatically sound and effective.
Shane's word-based deliverables range from long-form features to concise digital copy to persuasive prose. He's been on both sides of the PR pitch and puts some muscle behind ABC's media relations.